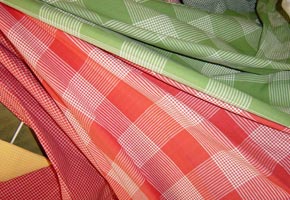 S.C. IASITEX S.A. is manufacturing weaved fabrics with the following general characteristics:
Compositions – 100% cotton, various blends of cotton with polyester, two blends of cotton with carbon covered cotton yarn
Weight – between 90 and 400 gsm
Width – between 90 and 160 cm
Special finishing treatments – fire proof, water-oil-acid repellency, antifouling, antibacterial, antifungal, easy-care, NanoSphere®, Sanitized®, UV protection etc.
The most common special treatments are: Fire proofing – the fabrics gain protection against fire ignition, and Anti Water-Oil-Acid treatments – these treatments confer to our fabrics a most useful characteristic, repellency to water, oil, and acids.
Upon client demand we can also apply the following super-special treatments:
Sanitized® – Protects fabrics from bacterial growth and odors. In your home and in public spaces. Protects material and surfaces from mold, mildew, biofilm and algae. Offers comprehensive odor management.
NanoSphere® – Keeps textiles dry and clean – The leaves of certain plants always stay clean, because dirt cannot adhere to their finely-structured surfaces. In rain, water simply runs off the leaves and washes off dirt. This function is also known as the "self-cleaning effect". NanoSphere® is a textile finish based on nanotechnology. It shows high level of self-cleaning, oil and water repellence as well as high abrasion resistance and wash permanence. In textiles with NanoSphere®, nanoparticles build a fine hilly structure on the textile surface. Water and dirt particles lie on the peaks of this structure. The droplets adhere much less to the textile than on conventional textiles and therefore simply run off and any residue can be washed off easily.
Easy care, Teflon coating, Antimoustique, Feather proof coating and others
Contact information
SC IASITEX SA 2, Primaverii street, postal code 700264, Iasi city, Iasi county, Romania Phone: +40 332 411 729
Fax: +40 232 246 063
vanzari@iasitex.ro
desfacere@iasitex.ro